New In Dog Harness Collections
Walkies in Comfort & Style:
Shop Luxurious Dog Harness Collections
At Wyld Cub we put dogs at the heart of everything we do. Designed and product tested in the UK, we believe all dogs deserve high-quality harnesses that are safe, comfortable and stylish for all their adventures.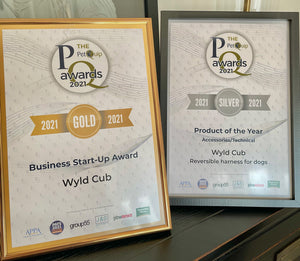 About us
We believe dogs deserve high quality, comfortable and stylish dog walking essentials for all their adventures. We design our award winning walk-wear in-house and ensure they are quality tested by a UKAS Accredited Laboratory to meet EU & UK Standards.
Wyld Cub is so much more than a brand, we are a community that put dogs at the heart of everything we do. We believe that being a conscious and progressive brand that stands for more than just what it sells, ultimately helps contribute towards a better future for our dogs. 
Read More
This website, our products and materials and its content, are the copyright of Wyld Cub. © Wyld Cub 2020-2023. All rights reserved.
Any infringement of our copyright will be vigorously pursued. You may not, except with our express written permission, distribute or commercially exploit the content.